---
W I N S P I C T U R E G A L L E R Y

All photographs by Martin Hardee, Fall, 1978.
Brochures from WINS. Click images to enlarge.
WINS news engineering, looking into the news anchor booth. WINS is moving away from this setup, to one where the announcer controls the board. Similarly, WOR recently negotiated with its union the right to have its reporters operate tape recording equipment.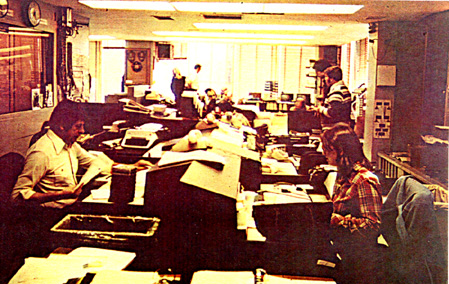 The WINS newsroom.
The WINS AP Radio "feed machine," affectionately nicknamed 'R2D2'.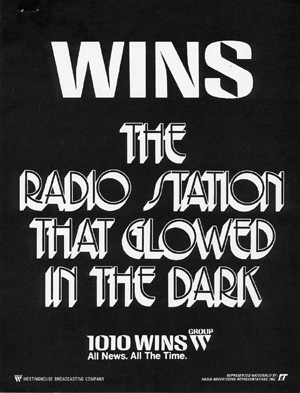 A promotional brochure trumpeting the fact that WINS stayed on the air
continuously during the city-wide blackout in the Summer of 1977.
A New York Times excerpt on the blackout.
Promotional brochure.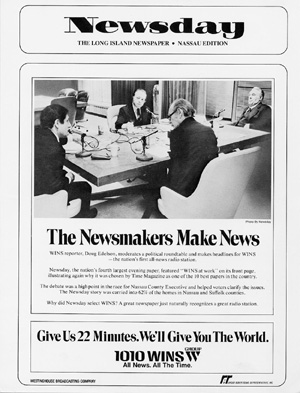 Promotional brochure.
Promotional brochure.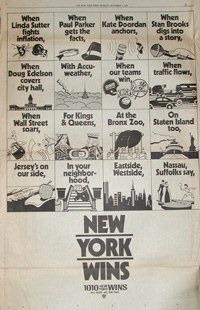 This WINS ad from the New York Times, November 7, 1978 exemplifies the
kind of "all-New-York-all-news" image that the station works hard to project.
Promotional brochure for "Operation Snowflake," WINS programming
to spread the word on school closings during winter snow storms.
Next: WINS News Schedules
---


About this report
This research documentary is Copyright 1979, 2002 Martin Hardee - All Rights Reserved. (read more...) Material may be quoted or excerpted for non-profit research purposes without additional special permission. For additional information email martin @ hardee.net.