W O R R A D I O N E W S
- a historical profile from 1978 -



November 10, 1978 - WOR is New York's richest radio station, and has one of the oldest, most comfortable news formats in the city...
Seven of clock on a Friday it's the tenth of November, another lovely clear morning out there... trains, subways, and busses are on time... so's Roger Skibines... so over WOR New York the news is next...


"Hear It!"

Hear how WOR sounds in 1978, plus an interview with WOR's News Director.


Thank you John, good morning everyone...

Two fourteen year old boys arrested and charged with setting the fire that took the lives of six South Bronx residents earlier this week... WOR news has learned that a billion dollars in Nassau County funds may be sitting idle in non-interest accounts. Authorities are investigating... Israel announced further strengthening of disputed Arab territory... and the Right to Life party may have knocked the Liberals out of the number four spot on the New York State ballot..

Right now, with clear skies, forty eight degrees -- that's nine on the Celsius scale -- barometer three-point-eighteen and rising... Sunny and mild today, says Bill Korbell...


WOR's 15-minute drive time newscasts are divided into three parts. On a normal day, the station will lead each section with one of the top three stories of the hour, with commercial clusters interspersed in between the sections. The only exception to this format is when there is more than one major breaking story.




The WOR news booth. All studios at the station employ carefully designed 'task lighting' that helps anchors and engineers focus on their copy or the controls.


"If we have an assassination in Iran and a plane crash in Boston, obviously you don't separate those two stories -- they're overwhelming and they'll be at the top of the newscast," says News Director Reg Laite.

Though competitors sometimes deride WOR as being formal in its delivery, Laite says that's a thing of the past: "I would like to think that we're really not that formal any more. There was a time when WOR was very, very stiff and formal... but in the last two years we've concentrated a great deal on being conversational. And to the extent that it's not happy news or disc jockey news... yes, we're formal. But it's really a conversational style."


Smart Middle Class
The WOR news departments believes it programs to a "thinking" audience.

"WOR has historically been a middle class audience and predominantly remains that way," says Laite. "We would hope that the intelligencia of the teenage group would even tune in if they wanted a 'thinking man's news' and we do work to increase our demographics and get younger [listeners]. Age is not a problem for the station."

Laite has been around the block when it comes to news formats, having worked at several news operations in the past. Laite comes to WOR from an all-news background (WNWS, the "NBC News and Information Service" station in New York, before that service ceased operations).


High Ratings, High Revenue
WOR's attention to mass audience appeal pays off: WOR has a higher gross income than any other radio station in the world.




At most stations, wire machines, copy, and spare paper are a tangled, inky mess. WOR solves the problem with custom-built furniture that ensures paper falls the right way and that there are plenty of extra rolls of paper to spare.


The station's high revenues help fund a very well equipped news department. For instance:

WOR has eight full-time news reporters on staff --- as many as all-news powerhouse WCBS
It has one of the two radio station traffic helicopters in the city
WOR recently purchased $2,000's worth of city maps just to help its reporters get around.
It has one of the very few bona fide libraries in the country (most stations, even in New York, rely on the wires, and small morgues for their information).
While most stations are lucky if they can afford a weather service, WOR has a full-time resident weather expert (Bill Korbell) who has his own nicely equipped weather office, two weather wires, and and ability to receive up-to-the-minute printouts of weather radar and weather maps for the area.
Though the station doesn't shy away from a hard news story that might involve an advertiser, decorum around brands and company names is extremely important For instance, in contrast to WBLS, where reporters joked about the role that Kool-Aid drinks had played Jim Jones/Peoples' Temple suicides, the WOR editor decided to remove the mention of the brand name completely.


Traffic Chopper Cooperation
With one of the city's two traffic helicopters, WOR garners lots of listeners for its live traffic reports, especially among its competitors: Many stations around the city admit to "stealing" their traffic information from WOR or other other airborne station, WCBS. Apparently, this practice is known to both stations and not discouraged.

"It's common knowledge throughout the industry," says Laite. "Today programmers go on the air and talk about it. Gene Klaven in afternoon drive here [when our helicopter was out of service] got reports from WCBS and went on the air and said we were doing it. He made no bones about it."

"In point of fact, the helicopter reporters share their information when they're up there," explains Laite, who says the choppers have a radio between them and both also listen to police monitors airborne so they can get early notice of wrecks.


McElroy, Master of the Phone Interview
One special ace up WOR's sleeve is Paul McElroy, the city's leading wizard of telephone interviewing.

A seasoned news veteran who was lured away from rival WINS, McElroy says he can rustle up far more news by phone than by physically covering the same interview.



"Hear It!"

Hear WOR's Paul McElroy explain how he develops and breaks unique stories using the telephone as a secret weapon.


"You can travel great distances [by phone]," he offers, "and you can reach into someone's home, and talk with them in a comfortable manner. And that's really the secret when you're interviewing someone; to make the person you're talking to completely relaxed, so that they say what they want to. Without looking at your eyes, and looking at how you react to what they're saying."

"Many times, McElroy continues, "people who are interviewed on the telephone will say something really gutsy... and then you'll talk to them in person and they back off. And the gutsy statement they were making on telephone seconds earlier suddenly becomes very dull and not very meaningful at all.

McElroy feels politicians are especially easy to deal with on the phone. A reporter who keeps that in mind,
he maintains, can save a great deal of time.

"Let's say [a politician] is in Lower Manhattan. Rather than take an hour, or a half-hour, to get down to his offices, talk to him for a while, and then take another half-hour to come back -- you're talking about an hour to an hour-and-a-half, to two hours, now -- in that time, I can be covering three or four people. That's the speed at which you can be developing stories."

The telephone, says McElroy, is a marvelous tool for developing and breaking stories that nobody else has.



- 30 -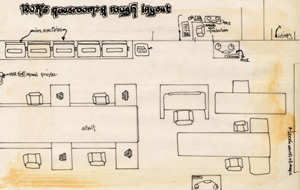 A layout of the WOR newsroom.
(Click image to enlarge.)
See Also:
WOR Picture Gallery - Photographs and drawings from WOR, Fall 1978.

WOR News Format - The newscast formats from a selected Fall, 1978 morning.

WOR Typical News Schedules - Newscast rundowns from a typical Fall, 1978 morning.

WOR Datasheet - Station stats on staffing, wires, cart machines, and much more!

Associated Press Daybook - An example of the "daybook" feed from the AP, used by WCBS assignment editors.

Visit more stations - Back to the home page to visit more stations' news departments.


WOR Elsewhere on the Internet:
WOR Anchor History - A partial chronology of anchors and personnel at WOR.

WOR and NYC stations in the 1964 New York City Blackout - A recreation from Broadcast Engineering magazine, by radio historian Jeff Miller.

Today's WOR - The WOR 710 site.


---


About this report
This research documentary is Copyright 1979, 2002 Martin Hardee - All Rights Reserved. (read more...) Material may be quoted or excerpted for non-profit research purposes without additional special permission. For additional information email martin @ hardee.net.